Balochistan is the land of multifarious talents besides its natural beauty. The people, in this part of the world, are naturally blessed with multifold potentials in each aspect of life. Similarly, one will find numerous people, from different ages [in Balochistan], who have great bondings with painting. They have sketched the world with their colors and got much fame in the society for their artistic skills.
To go further, I have had my conversation with three young and emerging artists of Balochistan, who have had some influences on the Baloch society from the recent past till present with their art-making ability. They are all so enthusiastic towards their passion and are carrying on with their interest passionately, which is why they have succeeded to a great bit in advance.
Sadaf Bashir, residing in Turbat [basically from Panjgur], is one of the most growing artists in the Baloch society. She is currently a last semester student of Bachelors of Fine Arts (BFA) in Punjab University, Lahore. She has excelled in her arts and got them exhibited in Resilience's Alhamra Young Art Exhibition (Lahore) and Kech Literary Festival (Turbat) in 2020 and 2021 respectively.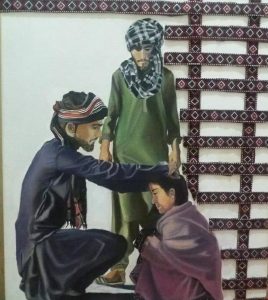 You may like to read about ARTIST MAJIDA BALOCH
Emerging from Balochistan, she aims to promote Fine Arts in the Baloch society so that young and passionate students may not fear to choose the field because of reasons as 'scopeless' or family pressures. All our people want is an example who has exceeded in the field; Sadaf aspires to be one. She further says to improve the role of Arts in her society.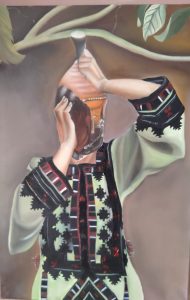 Being very colorful herself, Sadaf has been keen towards creating a colorful society. She wishes to do the things in her society which no one else has done under the shadow of Fine Arts. She illustrates that she was keen for securing admissions in Lahore once she learned that Lahore was known as the 'guard of Arts'. "My journey in the painting originally began in 2017 when my admissions were done in Punjab University, Lahore."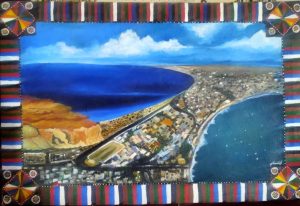 In Balochistan, one has to strive hard to convince their family towards choosing a subject which they feel has no lead in future. However, Sadaf was lucky enough as she got the support of her siblings in convincing her parents that Fine Arts could be very beneficial for her as it was what she liked the most. "And now, my family supports me to the fullest."
Besides her own family, she was criticised as to how she journeyed very far from her town only for painting. But, it never kept her down. She knew where she had to go, and hence is on her way to glory. "I wish to go long in my life with Arts and serve my nation with my paintings."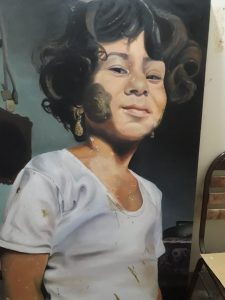 To a great extent, Baloch nation is very much supportive towards the emerging talents. On a similar note, Sadaf has always been appreciated each time she has tried to spark with her arts. She wants to instill the same motivation to the coming Baloch artists as well: "I honestly respect the artists because I know how hard they work towards their drawings; I see the artists in their arts as I see myself in my arts because all our feelings are attached with our paintings."
Coming to next, we have Hani Akram Baloch, a 17-year intermediate student from Pishukan (Gwadar), who is an energetic, promising and emerging Baloch artist. Her arts have recently begun to feature in social media platforms, however, she is very hopeful for exhibition of her arts in world-class platforms. She wishes to be a star and make a name for herself, her family and nation.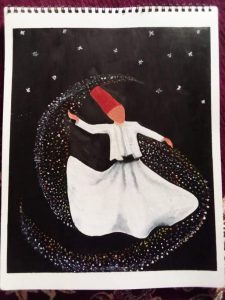 In my conversation with Hani, she unveils that she was passionate about arts when she was in class 9th (2018). Her friends reckoned her skill in arts and asked her for more drawings when they saw her first art. "Their words motivated me to work more on arts and make more sketches; I received more beautiful comments from them every time I showed them my newly-drawn arts."
Hani's real interest in arts evoked when her arts received appreciation from her language teacher, Imran Baloch, in Pishukan. She was also gifted with sketchbook, colors, and other stuff of arts which increased her desire to selecting arts as her major subject of study in higher level.
Unfortunately, we belong to a society where Fine Arts is considered a 'scopeless' field. Anyone who wishes to study Fine Arts is advised to quit and move towards a different and professional field. Hani, too, faced like situations when she first shared her wish to her mother to study Fine Arts. "It took me three consecutive days to convince my mother that Fine Arts was what would make me happy and successful; she agreed and now fully support me towards my goal."
To a great misfortune, criticism is often eyed as a negative approach in our society, which is totally wrong. People criticize only when they know you can do the same thing better. Luckily, Hani is among the welcomers of criticism as she knows they are only to lift her to a higher point in her career. "I was criticised and told where I had lacked something; I have worked on them and improved my arts."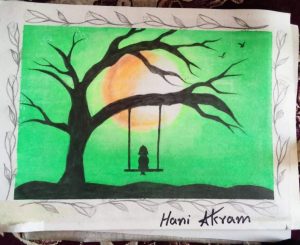 In concluding views, she mainstreams the other emerging artists – from anywhere in the world – and says not to compare themselves with others which would destroy their careers in one or the other way. "You are exceptional on your own."
The most surprising and emerging young Baloch artist, I have observed recently, is Gul Mohammad Baloch who is hardly 15 but his sketches win hearts. Basically, hailing from Hochat (Kech), he is the talk of the town with his everlasting artistic skill. Having migration to Karachi for higher education, he takes class of Fine Arts from Shantinikethan Arts Class, Lyari (Karachi), in evenings and studies at class 8 in school. He is a pure talent who is enriching his art with different colors.
In my chat with Gul Mohammad Baloch, he says he has been interested towards painting from the time he got to his senses. After that, he has been continuously improving his art and wants to make a name in future. "It has been four years since I am working on my paintings and trying to get better each day."
Looking at his physical appearance, one gets shocked as to how come this very small child go this beautifully with arts. His sketches are often of famous personalities as The Great Nelson Mandela, Noor Khan Bezanjo, Nawazuddin Siddiqui etcetera. He surprises everyone with his pencil, and his family knows his worth and appreciates his talent. "My elder brother suggested me to give time to my studies and he would enrol me in Fine Arts in future."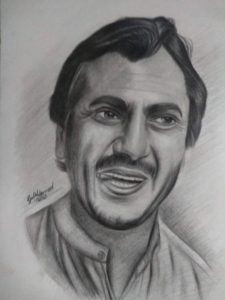 Looking at Gul Mohammad's unending efforts in this very age, he has inspired people from different ages to work on their potentials and go to another level with their interest in arts. He is lucky to have got to know his bonding with arts very early, and is hopeful for a brighter future in his career as an artist.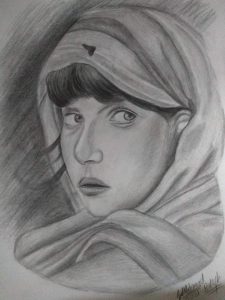 Balochistan has always been the hub of talents. Sadly, it has always got the least attention from the central and provincial governments. Baloch and the other local inhabitants have always helped themselves with their self support to raise higher. All we need to look is how the government(s) deal with Balochistan and its people.