Balochi cinema and song-making trends are setting new norms for the future of Balochi film and music industries. Particularly, the latest single-song releasing culture is not only promoting the standardization of Balochi songs, but is also receiving attention and charm from across the Baloch areas. Despite plentiful single releases to appear before, on and after Eid, one has released on April 16 by Taheer Productions titled as "Vsh Nabet" in their Episode 3 of Season 2.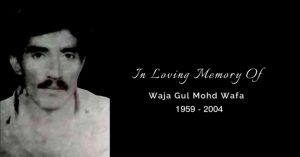 Sung by a rising Baloch singer Kamran Dad, the song contains the lyrics of the famous and well-attributed Baloch poet and teacher, (late) Gul Mohammad Wafa. The song is itself a dedication to the late poet, which the video song portrays with commencement: "In Loving Memory of Waja Gul Mohammad Wafa (1959-2004)". The song casts in leading role the Baloch artist Ahmed Ibne Sakina and Fatima Shehzad, composed and directed by Obaid GM Baloch, and edited by Azam Baloch. The responsibilities for Screenplay were with Quresh Ellahi Baloch along with the two directors, while subtitles are written by Maho Baloch.
"The motive behind this song is Waja Gul Mohammad himself who has provided beautiful verses to the Balochi poetry," says Obaid GM Baloch. It was in his (Obaid's) mind for quite a long time to get this song composed, the idea of which he shared with Azam Baloch some four years earlier.
Made in 2019, the composition began in practical this year after work was done on Taheer Productions' former project 'Kaya Kandana'. "Because this composition was heavier than our previous project, so we planned to work on it comprehensively and comparatively from our former projects, taking more time," says Azam Baloch.
Following the lyrics and composition, the team needed a singer who could go well with the composition as it is, for which they needed a singer accordingly. However, they had a feeling Kamran Dad, who has gained great fame in the music industry for last few years, could sing it the way music demanded from him. "With mutual discussion and agreement, we finalized the project with Dad who sang it for us," Obaid told me. "We tried to make the composition according to the rhythm of the poetry and look for the feedbacks from our listeners."
In the video song, Ahmed is observed to have affection with an 'imaginary character'. A character which does not exist, or at least does not subsist with the leading character. Everywhere he goes, he is lost in the world of his imaginations thinking of the character. Wafa, too, was a poet who portrayed imaginations, says the Taheer Team. "As everything we wanted about the song should relate to the poetry, we thought to introduce an imaginary character in the video song to resemble the poetry," Obaid told me.
Azam had similar views about Ahmed who, he says, is an important artist. Ahmed does not talk much to others and prefers loneliness as a person in his actual life. And we needed a person who could talk, walk and listen to an imaginary character which he could not do with people in his practical life. In fact, Ahmed is also an artist who paints the imaginary character with his brush in the video: all this was showed in the video to picture the imaginary world of an artist with someone he adores the most. "And of course, we wanted to show Ahmed's skills as an artist too," Azam told me.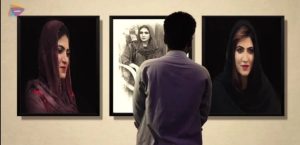 In the video, we observed Ahmed was not in the Baloch dress code. When asked of the foreign dress code, the team says that it was not a special function or occasion in the video song. They wanted to show it more a moment than a ceremony or a function to give it a real touch with actual life. "It was a normal home setting where we wanted everything to look so real and imaginary," says the team.
The response has been encouraging for the team so far, they said. Uploaded on 16th April, as of now (Friday, April 21) the video has received 18k views on Youtube, with comments praising the lyrics, acting, composition and Taheer Productions for attributing Baloch poets who have almost been overseen in the present time.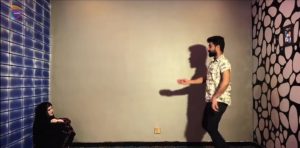 Mubarak Dad, a singer himself, comments: "I have no words to express my feelings after listening/watching this beautiful creation by Taheer Team. From composition to videography, everything is just mind-blowing."
Kamalan Bibagr, Baloch filmmaker, feels the modern equipment for cinematography were best used in the video song. "Taheer Productions have worked tirelessly hard for this project which was evident in the song they have presented before us. This is a new step the team has taken which, if prolonged, can uplift Balochi cinematography and music at a new height. Kamalan believes they need to study about these things and work accordingly to standardized the given works.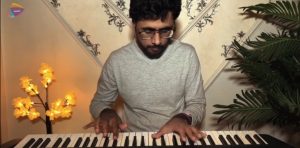 Another young singer, Malguzar Baloch says he listens to the track on and on. "After so long, I have seen a video song which I actually want a song to be. It is not only the composition or melody that attracts me, but the cinematography and the characters inside were so beautiful and connecting which supported each other in the video song to make it worth listening over and again."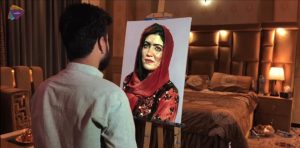 Gul Mohammad Wafa, too, was a beautiful poet, who has written three books of poetry. Unluckily, he died in a road accident in 2004, which is a great loss to Balochi literature. Remembering and attributing him is itself an honor for Taheer Productions. For a nation, remembering and dedicating such things to their national assets in literary or other forms is evident such national consciousness are hard to sink in the ocean of times. Unsure whether they interpreted Wafa accordingly, Taheer Team gave their best to produce a good project before the nation.