Panjgur: Panjgur's protest for Shaheed Dad Jan comes to an end after entering into successful negotiations between the district administration and protesters after nine points of charter of demands were kept on the table. Both the parties approved and signed the charter.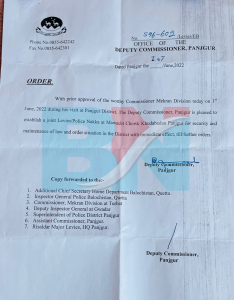 The residents of Panjgur district have been on a protesting sit-in for last ten days against the murder of a Baloch footballer, Dad Jan Baloch, by the "local militia", or also locally pronounced as death squads. After they continued their sit-in for seven days in Panjgur, the protesters felt the need to shift the protest to the CPEC route outside the main city.
They blocked the CPEC route for one night and a day after which they entered into successful negotiations with Commissioner Makuran today (June 1). They presented their charter of demand which includes nine demands.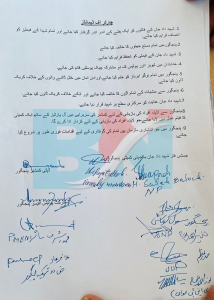 Charter of demands:
1: Martyred Dad Jan's murderers should be arrested within a week and all the families of the martyrs must be given justice.
2: Disbandment of all the local militias.
3: Martyred Dad Jan's family should be given security.
4: Two combined check-posts of police and levies should be established in Khudabadan.
5: All the no-go areas should be eliminated in Panjgur and crackdown should be imposed on all those who try to disturb the peace.
6: Elimination of all the drug dens across Panjgur and crackdown to be practiced against them.
7: Martyred Dad Jan Anayat must be declared "Martyred" in government level.
8: Establishment of a committee for the release of the forcibly disappeared people of Panjgur under the supervision of Commissioner Makuran with All parties which should play its role in recovery of the disappeared people.
9: Inquiry should begin against the proclaimed offenders of district Panjgur.
Justice for Shaheed Dad Jan Committee
Also Visit : CPEC the game Changer