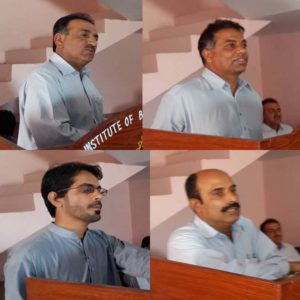 Institute Of Balochi Language and Culture (IBLC) held a ceremony in remembrance of prominent Balochi comic writer Baig Muhammad Baigal in University of Turbat.
The ceremony was held to pay tribute to Baig Muhammad Baigal for his worthy contributions to Balochi language and literature.
Speaking on the occasion Professor Abdul Suboor Baloch, Assistant Professor Ghafoor Shad, Assistant Professor Tahir Hakeem and Lecturer Sadiq Saba highlighted various aspects of Baigal's life and art and  recognized his ever-lasting contribution to Balochi.
Baig Muhammad Baigal passed away few days back in Lyari due to illness.
Baigal is known for his comic contribution to Balochi literature and he is the author of well-known book "Joker"