Mubarak Qazi, a well-known Baloch poet, says in his poetry that "ey Lyari a damag mana cho saye pema dost bant." I don't know what was Qazi thinking or feeling while writing down these words, but these words mean a lot for me that's because here in Lyari I met a great personality, a great man, a great human being, a great literary person and an academy, the great Saba Dashtiyari.
Prof. Saba Dashtiyari is the man who dedicated his life for Balochi language and for this cause, he traveled to many places in order to collect charity for promotion of Balochi language. He funded Syad Zahoor Shah Hashmi reference library and he also spent his whole personal salary for this cause. Today people visit the library to get materials for their thesis work and research as well spend time to read Balochi books.
Not only this, Ustad Saba started teaching Balochi language in different areas of Karachi and Balochistan. He was very dedicated for this cause and he used to ask us to write Balochi may wati shahden Zuban int before writing anything.
At the time of teaching, he used to switch off his mobile and remained entirely busy in teaching, telling us about history of Balochistan, its customs, literature and language.
Once some people entered that Hall to meet Saba, they had came from Russia along with a Baloch boy. Saba told that them that it was his Balochi class time and he can't talk in detail here and asked them to wait till the end of the class or fix and an appointment some other day. Here I felt how dedicated he was for Balochi language even when situation wasn't ok in Lyari and we were told not to go in the class in this situation. We called Saba to inform him that, we would not be able to attend class as the situation in Lyari is worse. He said everything was OK, 'you people come here and I am there to receive you and will safely leave at your doorstep.' This shows how dedicated he was to serve Balochi language.
Ustad Saba used to give homework where I wrote an article in Balochi regarding 2 March culture day. I gave that article to him and requested him to check and let me know my mistakes because it was my first ever article in Balochi.
The next day my mentor, Waja Saba, came in class, took out his books and waited for other students to reach the class. Meanwhile, he took papers out of his file and called my name, I was afraid that he may scold me over writing Balochi wrongly as it was my first article in my mother tongue, but he encouraged me and praised my work.
He appreciated my 1st piece of Balochi writing and also advised me to get it published in Daily Tawar newspaper, a newspaper that used to be published from Karachi in Urdu and Balochi languages. Along with the advice, he said 'I am so confident and feeling glade to share that my teaching in Balochi language isn't going wasted and your article has proved that." He also gave me a separate paper on which he had written some golden words praising my work. This isn't a only piece of paper for me rather the biggest award given by a great scholar, mentor and a linguist.
Here is the handwritten piece of Ustad Saba's words regarding my article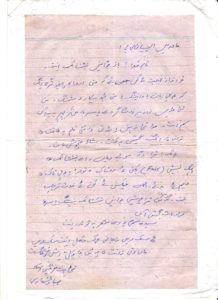 From that day I started writing in Balochi because his encouraging smile and attitude gave me much confidence and courage to write in Balochi language. His dedication and love for Baloch and Balochi language will ever be remembered and acknowledged.