A Baloch kid from Gwadar area of Balochistan has appeared to be one of the crazy fans of famous Indian actor Varun Dhawan. The kid is seen being interviewed to act and sing on Varun Dhawan's dialogues & songs.
The video went viral on social media and the actor Varun Dhawan could not stop himself from sharing the video on his official twitter account with the caption, "This is so heart warming"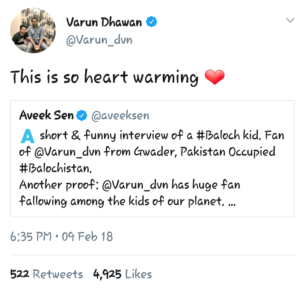 The conversation between Varun's fan (kid) and the other boy
Boy: Why do you like Varun Dhawan?
Kid: Because of his style.
Boy: hmmm you like only his style!
Kid: Noooo! I love the complete boy (hero).
Boy: Ok noted, you love him perfectly. I like him also.
                                                                 Conversation Translation credit: Qazi Rehan
Watch Varun Dhawan's fan video