It was nighttime.  All of the family had gathered necessary items for the journey and waiting outside the house in Quetta's Patel Housing Society on Saryab Road. Inside, Siddiq Baluch sat in his office, typing the news of his wife's death.
While everyone else was in tears, grieving the loss of a beloved mother, aunt and sister, he held himself together and stayed strong, determined to file the story before we departed for Karachi for the funeral. I recall his words to me as he finished the piece: "The newspaper will publish even when the editor or owner dies," he told me. "We all have to die one day, and even on that day, the newspaper must still get published." Hearing those words from a man who had just lost his wife of 50 years brought a fresh outpouring of grief from me along with a feeling of deep admiration and respect.  That day I learned that he was not only the best Baloch journalist of our time, but also the strongest person I had ever known.
That same strength was called upon many times in the years that followed. Shortly after his wife's death, my uncle learned that he had pancreatic cancer, one of the deadliest forms of cancer and one of the hardest to treat.  In spite of the diagnosis, he continued to write editorial and political commentary on Balochistan.  Even as his health deteriorated he remained disciplined and stoic, working several hours a day. One day in 2012, on our way back from Quetta Civil Hospital, I offered him my hand for support so that he could walk more steadily. He brushed it aside, saying, "A Baloch does not fall because of such minor medical procedure." As an example, he held up his father, Jangian, my grandfather, who hailed from the Naskand region in present-day Iranian Balochistan, telling me that he and his wife had lived lives of tremendous hardship and never once complained. If they could do it, he told me, he could too.
My uncle and I were in regular contact until January 23rd, 2018, when his health took a precipitous downward turn. In his last message to me, he wrote, "I will meet you in USA this summer. We are fine. Everyone in the family is doing well.  Nobody at home is suffering because you aren't here. It's just the truth. Don't be anxious. Don't worry about the family. Focus on your studies and your career."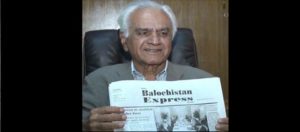 I like to think that I knew Siddiq Baluch better than anyone on this earth. I grew up working with him. In the early days of my career I had the privilege of sitting by him and learning from him every day. Often at midnight, when we were done with the day's work, he would regale me with stories about his experiences.  I was transfixed.
What can you say about such a man? A listing of dates and achievements can only tell a fraction of the story. It would be impossible to do justice to all aspects of his stellar character and his outstanding, 52-year career in journalism.
Siddiq Baluch was born in the Rexer Lane area of Lyari on August 10, 1940. His school certificate gives his birthdate as Feb 10th, but the Death and Birth Registration Department of the Karachi Metropolitan Corporation confirms August 10th, 1940 as the official date of birth.  For my uncle, however, that date had little meaning.  In his third, as yet unpublished, book, "My Years in Journalism," Baluch recalls a date that, for him, holds a far greater significance. "I only remember the day Pakistan emerged as an independent country, carved out from India and Balochistan, which had never been part of British India."  That date and his love of his native Balochistan were to set the direction of his life's work.
After earning a master's degree in Economics, Baluck volunteered to teach at the Baloch Intermediate College, Lyari, on a token salary. He taught there for a year and half before joining DAWN as a trainee sub-editor on the national desk. He always credited the late Mir Ghaus Bakhsh Bizenjo for inspiring and motivating him to become a journalist. He made an early name for himself as a disciplined, diligent professional who could always be called upon to cover a story.
After 28 prolific years with the Daily Dawn, Siddiq Baluch founded the Daily Balochistan Express, introducing Balochistan to an English reading audience through his journalistic skills. A decade later, he founded the Urdu Daily Azadi Quetta. Driven and indefatigable in his work habits, he would devote almost 12 hours each day to those newspapers. "I write at least 1500 words a day," he said, when asked how many hours he worked. He would write editorials in the morning then edit the newspapers at night. "I divide up my days into segments," he said.  An early riser, he had little tolerance for slacking. "To be successful, it's important to get up early each morning," he would say. Whenever he found me or my brothers and cousins sleeping late, he would yell at us to get up. "I know you all hate me," I can hear him saying, "but I'm just going to keep on waking you guys up early!"
During the 1970s, when he was in his early 30s and serving as Press Secretary to then Governor Mir Ghaus Bakhsh Bizenjo, the government was overthrown by the PPP-led opposition and Siddiq Baluch was imprisoned along with the governor, the late nationalist hardliner Nawab Khair Baksh Marri, former Chief Minister Sardar Athaullah Mengal and leaders of the National Awami Party (NAP).  He remained in prison for three years and endured harsh punishment during that time that took a toll on his health. "Because of violent treatment from the guards, I developed a minor heart problem," he told me.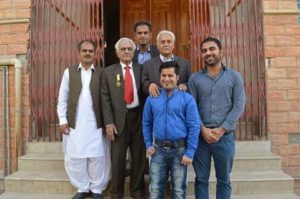 He was the author of two books, "Balochistan: Its Politics & Economics", which was published in 2013, and "A Critical Comment on the Political Economy of Balochistan," published in 2002.  His third book, "My Years in Journalism", which he was finishing at the time of his death, gives a personal account of his life from his childhood to his days as a veteran journalist.  It will be available at bookstalls in the near future.
Siddiq Baluch was known as an authority on Balochistan.  He was an ardent campaigner for equal rights and a greater share of resources for the province. He was frequently quoted by the BBC, Voice of America, the Guardian, CNN and various other western media outlets. In Pakistan all the national and regional media widely quoted him on Balochistan issues. In the last year, however, as deteriorating health restricted his activities, his voice was rarely heard in the media.
In various interviews Siddiq Baluch was outspoken in his championing of Balochistan. "It's impossible to develop Pakistan without developing Balochistan," he would say. "How can you just ignore half of Pakistan?" Through his editorials, he drew attention to the discriminatory attitude towards Balochistan in terms of resource distribution and representation in national corporations. "The Punjabi elite needs to change its mind," he would say. "They just dismiss us. They think they can develop Pakistan without Balochistan."
As positively as he will be remembered for his journalistic skills, Siddiq Baloch will also be remembered for the generosity of his conduct towards his fellow humans.  A man of the utmost integrity and fairness, he was dearly loved by all of his colleagues in Quetta. To journalists in Balochistan he was "Lala," a Balochi word for elder brother. Despite his very vocal support for Baloch nationalists, he never discriminated against anyone on the basis of ethnicity, gender or belief. It was simply not in his nature.  All he wanted was a developed and prosperous Balochistan.
As a political activist and the editor of two newspapers entirely dependent on government advertising, Siddiq Baluch's life was a continuous struggle to stay afloat. Twice his newspaper offices were raided by law enforcement agencies and all advertising, the newspapers' sole source of income, was blocked because of the papers' editorial policies. I remember his once saying to me, "A Grade 17 officer is king in Balochistan, but they treat journalists like dirt."  And yet, accustomed as he was to adversity, he faced all hardships with courage and dignity.  I never once heard him complain about his lot. "Appreciate the problems and the sad things too," he once said, with a broad smile. Despite the difficulties, he was proud of his chosen profession.  He would tell his sons that while his own father was a laborer, their father was a journalist. "It takes a lifetime to make a name for yourself in society," he said.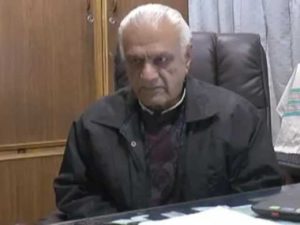 In spite of meager resources and dependence on government advertising, Baluch always tried to ensure that his staff had at least one meal a day. He hired a diverse staff for his newspapers, including members of different ethnic and religious minority groups. Although the Saryab Road area where his newspaper offices were located is notorious for law and order problems, various ethnic groups, including both Punjabi and Urdu speakers, worked there. The staff included Baloch, Pashtoon, Punjabi, Sindhi and Urdu speaking people. Baluch was also a firm supporter of the freedom of religious observance and respected the rights of Shia Muslims and members of different religious sects to follow their own faith traditions. As an editor he was always very open with his employees and spoke with them candidly.  Setting an example for his staff, he showed respect for women both inside and outside the profession, encouraging them to reach their potential despite the obstacles in their path.  Discrimination of any kind was not tolerated on his staff.
Interestingly, given the heights to which he rose in his profession, journalism was by no means the only field in which Siddiq Baluch excelled.  Had he so desired, he could have been a professional football player. During his high school and university days his footballing skills took him regularly to Lahore and other parts of Pakistan as a member of the football team. In 1961 he went to Dhaka, now Bangladesh, as part of a football training camp organized by the government. He remained there playing football for about two months and made such a positive impression that he was even offered a substantial package to stay on in former Eastern Pakistan and become a professional footballer. But he turned the offer down.  "My heart wasn't in it," he said, "It was never my dream to become a professional footballer."
The football world's loss was journalism's gain; for while Siddiq Baluch's heart might not have been in football, it clearly was in journalism.  Journalism was his joy, his calling, and his life.  He grew to be a giant and a legend in his chosen profession, inspiring all who knew him and leaving a legacy of courage and integrity for future generations of journalists to aspire to.  We will not see his like again.
Published in Balochistan Express