History never forgets those people who make the supreme sacrifice for the expansion and prosperity of their culture, literature and language. Additionally, these lion-hearted people turn out to be the symbol of inspiration and valor for the up-coming generations of their nations. However, the wide ranging Baloch history is full of such kind of gutsy heroes who have faced every sort of starvation, barbarity and viciousness, even many had to lay down their lives, but they stayed positive to their intended targets. Among these names the name of Azat Abdul Wahid Jamaldini will be remembered for evermore.
Azat Abdul Wahid Jamaldini, who held the Balochi language, literature and culture as commitment of his life, loved them more than anything else, and was ready to pay the ultimate price for them, was born in about 1918, in Nushki in the house of Mir Khan Jahan and Bibi Pari Jan.
He started his early education from nearby a mosque, but later on, got admission in a primary school which was known as Lower Middle School Nushki and it was the only school throughout the city that time. After completing the education from this school, for further education, he moved to Quetta, where he took admission in Sandemen School. Even though he was good at reading, he was not interested in; he wasted his time aimlessly by wandering here and there.
Also, once he left his study and went to Karachi with one of his friends for the purpose of going to Mumbai to work in films, but he failed to do so; however, his friend was successful in his mission. Azat came back to Quetta and once again joined school. Long had not passed, a catastrophic earthquake occurred in Quetta city, which destroyed almost everything.
Fortunately, Azat was not in Quetta; his uncle had taken him and his younger brother to Noshki before the earthquake occurred.
Azat loved Balochi language and literature and composed poetry in Balochi. His love for Balochi increased significantly when an English political agent captain Kohl, who wanted to know Balochi, came to Chagi, so Azat Jamaldini taught him Balochi. Like this, he got time to read and write Balochi. Unfortunately, this didn't continue for a long period of time. Azat was called to Peshawar for a job; he remained there for six months and came back to Quetta.
When his father past away in 1939, he was the only one to look after his family; due to this, he moved to Nokandi in order to handle his father's business. He started trade, and after sometimes, he went to Iran, where he stayed for a short while and came back to Balochistan.
He was not only recognized as a great poet but was also known as a great name in political struggle of Balochistan. From his poetry, we can judge that he had strong feelings for his nation as he says in one of his poetry,
"We are the Baloch, only the Baloch are we. We are the new moon and the rising sun of Balochistan."
His poetry carried a great source of courage and inspiration for the Baloch nation.
Cumulatively, it stands to reason that when someone has strong nerve to face challenges and firm commitment to achieve the desired goal, even ultimate power will bow its head before him as Azat proved. Being financially weak and physically ill, he fought tooth and nail in order to promote his monthly magazine "Balochi", which was firstly published in June 1954 from Karachi, proved to be a light in the dark since at that time very less people gave attention to this deprived language.
Due to his hard work and commitment, very soon "Balochi" gained popularity among an overwhelming majority of people, even it became talk of the town in gulf countries. The magazine highlighted the issues and made Baloch nation aware of its rights, which the then government found a threat for itself and banned it.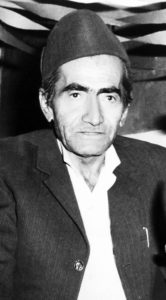 After banning magazine, the authority kept its founder, Azat, behind bars for six month. After he was released, he went to Iran, where he joined radio Zahidan and broadcasted Balochi programs and highlighted the abysmal situation of Iranian Baloch; because of it, he was fired from his job. From there, he moved to Dubai, where his sole purpose was also to promote Balochi and he composed a lot of poetry, but, unfortunately, a thief stole his bag in which his passport and materials were kept. Due to this, he came back to Balochistan empty handed and once again submitted an application to get permission for publishing "Balochi" magazine, which was banned once and he got the permission.
Till his last days, he worked for the promotion of Balochi language and literature. It is said that when he became very much ill and was hospitalized, there he worked for his magazine "Balochi" even doctors had suggested him resting, but his love was something fierce strong that he could not stop himself for contributing to Balochi and left this world on 5th of September 1981.
Additionally, Azat Abdul Wahid Jamaldin's many of poetries have been translated in to Urdu and the collections of his poetries have been published in the shape of a book by the name of "Ruzn".
He was and is truly a legend in Baloch history. He will be remembered with great respect and honor forever because of his everlasting contributions to Balochi language and literature.