Turbat / Islamabad: CTD raided a house in the Hoshab area of District Kech Balochistan last night, abducting a Baloch woman called Noor Jan Baloch (40 years). She is the mother of three children. The Baloch's relatives and neighbours retaliated by blocking the M-8 road in Hoshab.
M-8 is the China Pakistan Economic Corridor's route (CPEC). According to a report on Samaa News, the CTD probe into the Baloch women is still ongoing.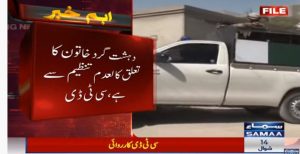 The route is still blocked, according to the most recent news, and protestors are demanding the return of the Baloch mother.
In Islamabad Baloch Students of B. Ed department boycott their class and organized a peace walk at PMAS ARID university Rawalpindi against the forcible disappearance of Feroz Baloch and Harassment of Baloch students within the campuses. Feroz Baloch was on his way to library but not reached and goes missing.
In Social media people are demanding the early release of Baloch Women that its against the norms of Baloch that Baloch women are not secure in their home too. Also demand for relasing all Baloch students with hashtags:
#EndEnforcedDisappearances #SaveBalochWoman #SaveBalochMissingPersons #ReleaseNoorjanBaloch #ReleaseFerozBaloch #StopHarassingBalochStudents #ReleaseBalochStudents