Hameeda Noor is a human right activist by profession and founder of "SHADE". An NGO working in Balochistan. She was born as an ordinary woman but devoted her life to an extraordinary vision to empower women.
The Baloch News presents her exclusive interview with the readers about her experiences and observations towards society. AK Baloch arranged & conducted the interview.
AK: Tell us something about yourself
Hameeda: I am a social activist and I belong to one of the least developed and tribal area of district Jaffarabad, Balochistan. Most of my activities aim to empower women in my district and other parts of Balochistan with the #MeToo approach.
I have done post-graduation in Political Science from the University of Balochistan Quetta. I am a human rights worker by profession, working in the development sector and founder of an initiative named Social Humanitarian Agency for Development & Empowerment (SHADE Balochistan).
Most of the works that I have carried out are for women empowerment. I started my career from my village where my surrounding couldn't make me comfortable when I saw women in very vulnerable conditions, being treated like commodities of male, so this provoked me to speak for them.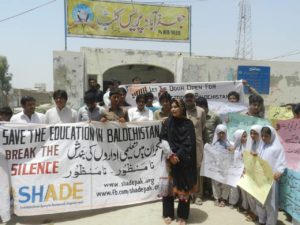 AK: Who is your ideal inspiration?
Hameeda: There are many women who inspired me and stood for marginalized communities, but I am inspired by myself. I want to be a source of inspiration for others in my surrounding as I did, some of the young females are following and are in-touched with me for the rights of their own and other family members, as we usually face in our society.
AK: Tell us about your NGO, SHADE.
Hameeda: Social Humanitarian Agency for Development & Empowerment (SHADE) is a woman-led, non-profit, non-religious, non-political and non-governmental organization focusing on uplifting the lives of rural areas' marginalized communities of Balochistan and connecting them with national and global development, advocacy orientated organization.
SHADE aims to work towards strengthening the culture of horizontal social mobility through restoration and sustainable management of natural capacity building of local communities especially focusing on female youth development, gender empowerment to cope and combat with backwardness, natural and environmental hazards through increased access to education, human rights, and economic equality.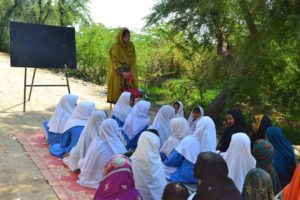 AK: How much hard was it for you to found an organization, especially for women?
Hameeda: It is really difficult for a woman to start an initiative in a male-dominated society and when I took the initiative, many people supported me and many discouraged and dishearten me for this initiative. The people in our area are not aware of the importance of welfare organizations as a negative mentality for NGOs has been developed in our areas.
Definitely, the challenges for any initiative in our illiterate society is expected and we are the ones to eliminate the taboos from our society for a brighter future. Some sick mentalities even among females do not want women to come in the mainstream, they always try to make hurdles by different means to stop a woman to grow.
AK: Do you define yourself a feminist?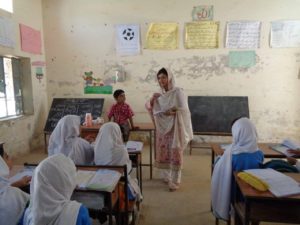 Hameeda: I feel better to introduce myself as a humanist rather than a feminist, but yes I do work for women because most of the marginalized segment in our society are women, as they are being made deprived of their basic rights everywhere. Even at a dining table most of the nutritious chunk of food are for males. So I want to empower the women and I believe in humanity without any discrimination of gender and race. I follow the philosophy of gender equality.
AK: What do you feel about the condition of women in Baloch society?
Hameeda: We are 52% of the population in the country and most women are living in rural areas where there are no facilities to get the quality education, freedom of speech is forbidden and due to other cultural barriers women are facing serious troubles.
However, I see a big change, women are moving from their native districts to other bigger cities for getting higher and qualitative education, this really made me happy to see girls are studying in universities/colleges. Previously, the concept for girls' education was considered a budding idea and only those girls whose families could afford houses in main cities were fortunate enough to be blessed with the brightness of education.
But still change is needed for empowering women, after getting education most of female prefer only teaching or medical profession, they are not allowed to join other professions, due to the labels they get from the narrow-minded people. The women have capabilities to do good work to serve their people and families.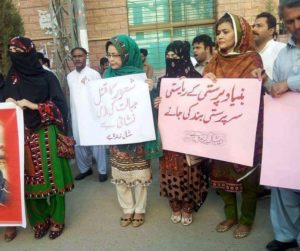 AK: How are you envisioned to work for women in your surrounding?
Hameeda: It is easy to utter the word 'women empowerment' but it is too hard to implement it practically in male-dominated and tribal influenced areas. I am empowering women through spreading education because I believe that the only way to empower women is education.
I want to empower women through education when women become educated, they get to know about their rights which ultimately leads them towards economically stable lives and they can live their lives independently.
AK: Do you find Baloch society conservative for women?
Hameeda: We can't say for whole society but yes, somehow people seem to be very conservative for active women who want to change their lives or want to bring change in other women's lives. Many women who do jobs for their livelihood are hardly given free space to achieve their dreams. I believe things are changing gradually, but women have to come forward for their rights and create a conducive space for themselves.
AK: What sorts of difficulties and problems you faced as a woman while performing social activities in Baloch society?
Hameeda: Firstly, I faced hurdles from my family members, when I joined social sector my family was against this, I faced a total social boycott, nobody was even ready to talk with me; however, with the passage of time, they got the fact that I was not doing anything wrong. After years they accepted me, and I expanded my work and vision to my cousins.
AK: Have you ever been criticized and misunderstood for being active in social media and other forums?
Hameeda: Yes, I have come across with criticisms at every stage whenever I spoke on women issues, some people labeled me that I wanted to bring European culture here for women, but I listened to them with attention and smiled at them. I didn't stop rather I continued highlighting women issues of our marginalized communities with further confidence and enthusiasm.
The people on social media comment and argue on my posts and I appreciate their feedback on my work as I have learned more from their criticism. I consider their remarks to be constructive criticism – not social media bashing.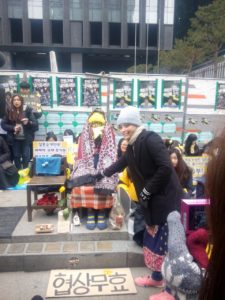 AK: what motivated you to choose this field?
Hameeda: There exists a very painful story behind my activism. A young girl ran away with her lover and at the time she was already engaged with another guy who she didn't want to marry with. Her fiancé was a psycho patient and her family forced her to marry him due to which she chose to run away from home with her lover. The family members found her in another city and her uncle wanted to kill her, but some of her family members saved her from being killed and the Jirga decided to sell her to an unknown/stranger man with whom she was to get married. None of her family members had ever met that stranger man.
After marriage, she is not allowed to join any family gatherings, functions etc. She is being treated very badly and having low status in her husband's home as she is a "Kari girl". Another such case had also occurred in our region previously.
When I found the indiscriminate actions and treatments against women, I decided to take an initiative in order to safeguard their status and dignity so I came up with my organization and started working for women empowerment.
AK: What issues have you seen in our society being faced by women?
Hameeda: Early marriage is closely linked to higher levels of adolescent fertility, early childbearing, particularly that occurring before age 18, is detrimental to both mother and child, not only because of the higher risks associated with adolescent pregnancies, but also because early childbearing usually deprives young women of the opportunity of pursuing other activities, such as schooling or employment.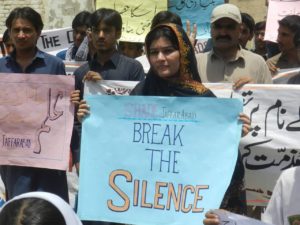 Another most burning issue is killing women and men on the account of so-called honor "Karo-Kari". The women, who are labeled as "Kari" and couldn't be murdered, will have to live their whole life in miseries with the label of Kari. No social rights will be given to her, she will have to marry an old man so that he can make her his slave for the lifetime.
Still, like stone-ages women are being treated as commodities in major parts of Balochistan. In the tribal system, women are sacrificed to finish a tribal or a land conflict.
AK: What sort of changes you wish to see in Baloch society?
Hameeda: In Baloch and adjourning societies there exist so many outdated norms which stand against women rights and they have been affecting the mental health of women from the early childhood. Such norms and values have got to be eliminated or modified.
It's necessary to know your rights, but it is also necessary to take responsibilities for the betterment of the society. The only criticism of system or norms is not a solution, be the part of this changing process.
AK: Has your organization taken any steps for the empowerment of Baloch women?
Hameeda: We have taken many initiatives to promote girls' education through mass mobilization, behavior changing and making efforts for easy access to education for the female in their accessible areas. We are working on Anti honour killing bill implementation in ground level, also highlighted cases to mainstream media to stop honour killings.
AK: Any message for Baloch women?
Hameeda: Get Education, know your rights, be strong, take the decision and chase your dreams no matter how hard situation you come across. Don't feel weak, stay firm and strong to achieve your dreams, then see the people will follow you.