The Baloch News presents her exclusive interview to the readers about her experiences and observations towards society. AK Baloch arranged & conducted the interview with Hani Baloch.
AK: Please tell us something about yourself
Hani: This is Hani Baloch born in Lyari and luckily from my childhood I was blessed with a literary environment as my family had deep interest in literature. I am the proud daughter of Comrade Wahid Baloch who provided me every possible opportunity to live my life the way I wanted, and he is the one from whom I learnt the art and philosophy of literature. I see myself a bookworm and a writer. I consider my father the role model for me because he is the one whose efforts and blessings made me a strong girl. I do remember the days when we did not have space for sitting in the room as it remained filled with books all around.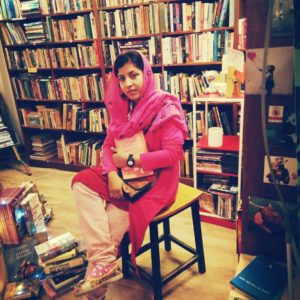 AK: What is your academic qualification, and which field interests you the most?
Hani: I am a student of BSc and I have also earned diplomas in "Obstetrics and Gynecology" and "Basic Life Support". Apart from writing and other social works, I have keen interest to pursue my professional career in science, specially being highly qualified in "Obstetrics and Gynecology".
AK: Being a female-How have you observed the society?
Hani: I found it totally a male dominated society. I observed authoritative behaviors of men towards women as our conservative society poses hindrance and our absurd social standards debar most of the female students from getting education according to their wishes. Only a few of them are fortunate enough to get the chance of chasing their dreams and wishes.
It's heartening to mention that men who openly acknowledge and voice for women empowerment, but they do change their perceptions when it comes to their own families. Everyone chants and asks for change to empower women in public gatherings, but they seem to be reluctant to begin that change within themselves and they turn conservative and traditionalists when it comes to their own female members of the family.
AK: How do you define yourself, a social worker, a human rights defender or a writer?
Hani: I may say all of them. I live as an independent girl who dreams high to enjoy all sorts of freedom that men members of the society enjoy. When the society needs me for a noble cause, I will definitely be there to put my maximum contributions. I keep raising my voice for any human rights violation and abuses. Humanity and tolerance should be the essence of everyone's' life. And writing is my passion.
My father has always been supportive and encouraged me to face the challenges with confidence. He is my role model and I admire him for what I am today.
Everyone knows what he or she is capable of. All that matters is how they start. Unlike others I intended and tried what I could do and my father, being a social activist supported me everywhere. He is the reason for my courage and confidence. I don't know where my life turns in future because I have an example of a Baloch girl who is more talented than I am. But when she got married, her life took a major turn. She faced custodial violence from her husband. Today she is the mother of two daughters, but still she is to perform the domestic responsibility of a housewife. Her talent and dreams have been shattered.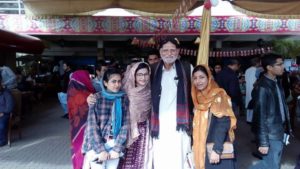 AK: Besides curriculum, what sort of books you study? Also name some of them.
Hani: Mostly, I love to read books related to women issues, English Novel and Revolutionary books based on struggle. Few of the books that I have read are, Tahreek aur aurath, Aurath Zindgi ka Zindaan, Aurath aur Muzahimat, "Maan (Mother), Blasphemy, Marxism aur Aaj ki Dunya, Aurath aur Fanoon lateefa, Dasthoor e Nafsiyath, Man and society, Broken Republic, Aagahi ka cheraag, science and the quiet art et. Till now I have read more than one hundred books.
AK: How do you perceive Baloch society-conservative, secular or liberal?
Hani: By nature, Baloch nation is secular and liberal as its norms, values and history suggest that Baloch nation was never affected by conservatism, but due to lack of awareness about Baloch nature and history, they are getting conservative.Due to lack of education, the tolerance in Baloch nation is fading away. And yes, Baloch society is gradually being converted to conservatism.
AK: You admire your father most often—how do you define the personality of your father?
Hani: He has a unique personality. I can't define his personality in words. His honesty and hardworking spirit is really admirable. He means everything to me and I consider him an angel.
AK: What sort of advice you get from your father?
Hani: Humanity… Respect… Honesty.. and he also advises me not to get hurt when people show negativity. He encourages me to speak truth as it is the truth that ultimately wins.
AK: The time when your father got kidnapped, how did you deal the situation? Did the tragedy make you stronger?
Hani: It was really hard, you can't imagine how you feel when someone you love the most goes missing. Whenever I think of that moment, my mind goes numb, but the same tragedy taught me the worth of a beloved. It made me brave enough to deal any situation with courage for the rest of my life.
I have penned down a diary which contains all those hard moments and emotions that I went through, and it will soon be published.
AK: Recently you visited Russia-what experiences made your visit memorable?
Hani: It was a great journey, I learned a lot, but the most important thing that I observed in Russia was love for their mother tongue. They offer great importance to their own language and they even don't talk to you in English which I believe is the secret to their success. During my visit to Russia, I raised the issues of street children of Lyari, lack of education facilities, informed them about Baloch Culture and I was also interviewed in Sochi at Kino Lab Media center.
The Russian are very humble. They give much importance to an ordinary person, and they made me feel like a celebrity.
AK: Tell something about your recently published book?
Hani: It is based on women issues. The purpose of publishing the book was to give awareness to women about fistula, PPH, post coitus bleeding etc.
AK: When did you start writing and why?
Hani: I began writing when I was in 7th grade. Shaheed Saba Dashtiyari was the man who encouraged and motivated me to write. He is my mentor and teacher.
AK: How have you been utilizing your pen to empower women?
Hani: I have been individually trying to empower women. I believe individually I can only raise my voice for women empowerment, but it needs the collective efforts of secular organizations with public power to create practical grounds for such causes.
AK: Share us a situation where you reached the peak of disappointment….
Hani: Everyone faces disappointment as I did, but I think every disappointment should be made an appointment towards success. Every hurdle in my life made me stronger.
AK: If any other Baloch girl like you wishes to be as active and free as you are, what do you suggest her to practice?
Hani: We need women involvement in all walks of life as we know that in advanced and developed nations, women are given equal opportunities and rights as men. My suggestion for those Baloch girls who really wish to do something extraordinary, they should adopt the philosophy of honesty and make themselves satisfied because satisfaction leads towards victory.