Baloch Students Council Islamabad recorded a protest outside National Press Club Islamabad against extra-judicial killing of Ihtesham Baloch and enforced disappearance of Hafeez Baloch.
Ihtesham Baloch, a student of BS Biotechnology at International Islamic University Islamabad (IIUI), was killed on 3rd February 2022. Baloch students participated in the protest and demanded justice for him. Protestors claimed that Ihtesham had gone to his hometown Panjgur on vocations after completion of his first semester where he was forcibly disappeared and some hours later his mutilated dead body was discovered from Chitkan Bazar Gichk.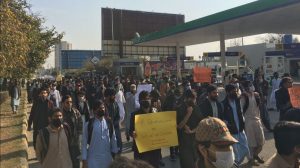 Another student of Mphil Physics at Quaid-e-Azam University Islamabad, Hafeez Baloch was forcibly disappeared on 8th of February 2022 from a teaching academy in Khuzdar while he was teaching in a class. While addressing the protesters, one of his friends said that Hafeez was his roommate and a friend. Hafeez Baloch always aimed to get education here in Islamabad and then to serve his own people. He further said, "Pakistan always sloganed that Balochistan should be given special priority in education but now educated minds are becoming victims of enforced disappearances."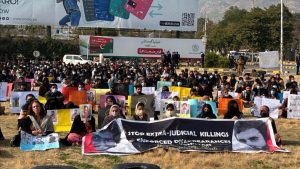 Hafeez Baloch is believed to be a hardworking student belonging to an underprivileged family. He went to his hometown Khuzdar on semester break to see after his family where he was also teaching in a local coaching academy in his free time.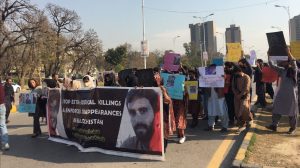 Protesters appealed to the concerned authorities to investigate into the case of Ihtesham Baloch and punish the perpetrators constitutionally. They also demanded safe release of Hafeez Baloch and asked for an end to enforced disappearances.