The tallest man and the shortest woman on earth have travelled to Egypt for a photo shoot at the country's famous Giza Pyramids.
Sultan Kösen, who hails from Turkey, holds the record for the world's tallest man with a height of 251 cm (8 ft 2.8 in). On the other hand, India's Jyoti Amge holds the Guinness title for world's shortest woman with only 62.8 cm (2 ft 06) tall.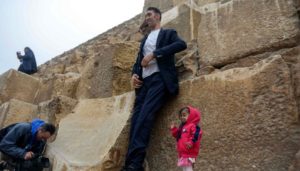 The photo shoot produced incredible results as the mismatched pair's height difference became even more astonishing in close proximity.
The pair has been invited by the Egyptian Tourism Promotion Board to visit Cairo's most famous sites, in an attempt to help boost tourism in the country.
Interestingly,Guinness World Records has recorded only 10 people in history to reach 8 ft in height or more. Kosen took the title from Chinese Xi Shun, who measured in 2005 7 ft 8.95 inches.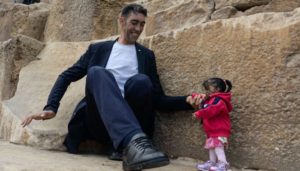 Meanwhile, Amge won the record after her 18th birthday in 2011. She currently works as an actress, in addition to co-hosting a show called 'Lo Show Dei Record', according to the Guinness World Records official website.
Source #GeoTv