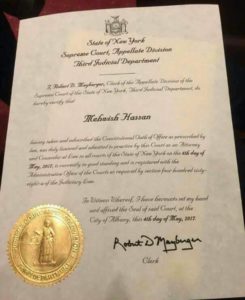 Mehwish Baloch has been honoured to be the attorney and counselor of New York Bar Association after completing her LLM degree with high grades from one of the top universities of America.
Previously, Mehwish Baloch had also successfully gained high position in LLB from Ulster University UK and she was honored with 'Ms LLB Award' for her excellent performance in study.
Actually a very limited number of students from Balochistan get the chance to get education in top universities of European countries and getting such high positions will surely become a source of encouragement for other boys and girls of this region and Mehwish Baloch is among the very few Baloch students who succeeded in reaching such a milestone.
She is the daughter of well known Baloch journalist, Nargis Baloch.