Advocate Mohammad Hayat is a literal person. He hails from Panjgur Balochistan. He has performed his duties as an advocate in different areas of Balochistan. After retirement, he is serving his society as a social advocate. He has developed his interest for literature and Balochi language himself. He has remained the president of Izzat Academy Panjgur and writes for Balochi Dunya (Magazine). He has a wide knowledge about literature, world and religions.
Yasmeen Sana, Sub-Editor of The Baloch News, has interviewed him on literary issues of district Panjgur.
Yasmeen Sana: What is your qualification and from where did you get your early education?
Mohd. Hayat: I gained my early education from Government High School Panjgoor and did my LLB from Quetta, Balochistan.
Yasmeen Sana: What is literature for you?
Mohd. Hayat: To me literature is not only writing, but it also contains some aspects of cultural heritage. Through literature, we highlight and explore the societal psyche, norms, values and issues.
Yasmeen Sana: How were you attracted towards literature?
Mohd. Hayat: I did not get any inspiration from others. It was my own interest that led me towards studying Balochi literature.
Yasmeen Sana: What are your hobbies and interests?
Mohd. Hayat: Reading Balochi literary books and writing articles. I spend my spare time in my garden.
Yasmeen Sana: Which magazine do you prefer the most for writing?
Mohd. Hayat: I mostly write for Balochi Dunya. It has been a very long time that I am writing for Balochi Dunya. There is a huge collection of magazines in my library.
Yasmeen Sana: Is there any personality that inspired you?
Mohd. Hayat: Not really. Haji Abdul Qayyum used to guide me, but he did not create any interest in me towards literature.
Yasmeen Sana: In Panjgur, we can find a good number of literary men, but the women have not been attracted towards literature. What can be the reasons?
Mohd. Hayat: In my point of view, the role of women in overall Makran has not been satisfactory and the education ratio of women has been very low which has kept them backward in every field. The old traditions and cultural values also don't allow women to move forward and stand shoulder to shoulder with men. However, now the situations have changed, a more conducive environment and space has been created for women. So they should avail this opportunity and contribute in every aspect of life. In past, the women used to face so many difficulties and restrictions, but in present age, they are bestowed with greater freedom.
Yasmeen Sana: How can we create a better environment for the women in Panjgur?
Mohd. Hayat: There are so many issues about which we can't talk openly. We have such traditional norms that have created boundaries and limitations for the women. However, situations are changing, I hope to see a bright future for the women in our society.
Yasmeen Sana: What are the weaknesses of the literary people of Panjgur?
Mohd. Hayat: There exists no particular weakness; however, I have always advised them to work on their grammar and script. They should have one particular grammar mechanism rather than many.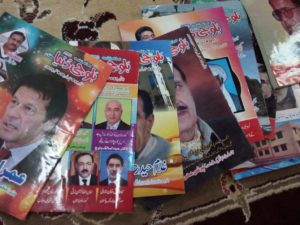 Yasmeen Sana: What is the reason that there is only one literary academy in Panjgur?
Mohd. Hayat: Izzat Academy is the only literary academy, and the reason is that the leaders do not appreciate and work for building more literary institutes to promote literature and linguistics.
Yasmeen Sana: Has Izzat Academy got any appreciation and funds from government or leaders?
Mohd. Hayat: No, Izzat Academy has never been appreciated. It is running voluntarily. It has neither received any fund nor has any leader tried to look after it.
"It is very hard for a nation to promote its literature without the help of leaders and government."
Yasmeen Sana: As compared to other developed languages, Balochi literature has not flourished to that level. What can be the reason?
Mohd. Hayat: One thing must be clear to everyone that a language can only develop and progress when it gets support at the government level. Unfortunately, we don't have any proper support from government. Everyone is struggling at individual capacity to serve Balochi language and literature; however, there is a need to introduce Balochi language as a medium of instruction in educational institutions of Balochistan. This is the only way through which Balochi language and literature can develop and expands.
Yasmeen Sana: Most of the students in BA level prefer to select literature as a subject for the reason that it is easy to pass it rather than taking it as a subject of interest. What is your opinion on it?
Mohd. Hayat: This is the era of science and technology where most of the students look forward towards science rather than literature. Students don't prefer literature as a subject for career that's why its importance has declined in our society.
Yasmeen Sana: Are you satisfied with the writers of Panjgur?
Mohd. Hayat: Everyone is best in his own way, but I have suggested them to unite and adopt a similar writing mechanism. Everyone is trying to promote the literary environment, but the role of government is lacking. Concerned authorities need to support the academies and writers.
Yasmeen Sana: How do you see the future of Balochi literature in Panjgur?
Mohd. Hayat: I am optimistic to see a bright future of Balochi literature in Panjgur. However, government must move forward to take the responsibility of promoting Balochi language and literature because without the governmental support, literature and language won't observe a significance progress. I have mostly written on Balochi literature in Urdu language because Baloch residing in Sindh, Punjab and other parts of the world, don't understand Balochi language.
Yasmeen Sana: What message do you want to convey to the youth?
Mohd. Hayat: I want them to read more and more because reading is the only thing that adds to one's knowledge and capabilities. Every youth must come forward and play their due role for the development, progress and prosperity of the society.