Nazia Baloch lives in Lyari and got her basic education (Matric) from a governmental school. After completing her intermediate education, she joined teaching profession and served as a teacher. But later on, she felt the need to move forward and look for a better future that's why Nazia decided to take admission in University. She completed her master's degree in political science from University of Karachi. In this duration, she actively participated in politics and remained the representative of Baloch Human Rights Organization (BHRO) in Lyari. She along with her other friends worked voluntarily for the women empowerment in Lyari and provided free education to the housewives and other girls in the area. Currently she is working with Women Development Foundation.
The Baloch News presents her exclusive interview
BN: Please tell us something about your current activities
Nazia: Currently I am serving as a center assistant coordinator in Azm e Noujuwan project of Women Development Foundation Pakistan. My part of work in the project is to mobilize the masses and train the youth for civil and social responsibilities. Furthermore, the objective of this project is to help in capacity building of the youth in Maripur and make them responsible through art and theater as well.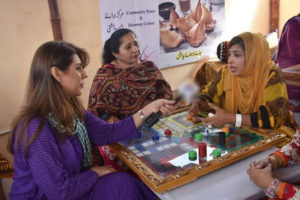 We have also constructed a cultural style ladies daba/cafe in Maripur where we have provided the facilities of indoor games only for women. The purpose of this initiative is to provide a source of entertainment to the women and make them involve in healthy activities. It is a platform where women get the opportunities to discuss the concerned issues and refresh their minds because the women in our surroundings don't have any space to have a get to gather and entertain themselves. Keeping all these views in mind we thought of creating a ladies cafe. All the workers in cafe are women and we have also created a library corner where the women can study books.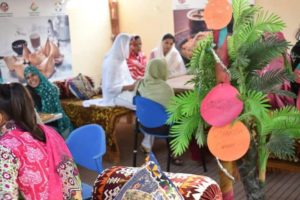 Besides this, the Daba also includes a vocational center where we offer free classes of stitching and beautician for girls. The main objective behind such platforms and activities are to motivate the women and provide them opportunities to move forward.
BN: Lyari is known for its backwardness and gang-war, being a Lyariite-how do you introduce Lyari?
Nazia: It is a fact that there is lack of education and educated people in Lyari due to which it has lagged behind in every field. Despite backwardness and negligence, the land of Lyari has produced several sportsmen, artists, politicians, singers and literary-men. Even the roots of Baloch Nationalism can be traced from Lyari.
As of girls, I have observed that educating a girl in Lyari is considered a sin. We have been made bound to follow outdated cultural, social and religious norms which have limited the space for women to stand at the front line. Conservativism has deepened its roots in our society due to which it is considered bad to educate girls and let them stand along with male members of the society.
One of the most worrying fact is that the people of Lyari also suffer from the worst form of poverty due to which the parents cannot afford to educate their children and give them a good life standard. Through the help of political parties, the gang-wars in Lyari were given hype due to which the social and educational activities in the area came into an end which in return destroyed the educational and social structure of Lyari. Continuing education in such circumstances remained next to impossible for male and female both and the activists, who were striving hard for the promotion of education, halted the activities as they faced serious life threats.
BN: Being a lady of a conservative society, what difficulties you faced while doing job and performing other activities?
Nazia: To me life is a challenge and people keep struggling to reach the peak of the success and the path to success is never easy. So like others, I also had to come across so many challenges and difficulties to reach this stage of my life. Being a woman, one has to strive hard and compromise on many occasions to get the permission for gaining education. The female members of the family have so much responsibilities to deal with and they are got to keep a balance between family and educational responsibilities. Our society hesitates to adopt changes and it remains a fact that when a girl goes out for a job or for any educational activities, she has to adopt some changes in style and dressing as required by the environment and organization. However, the people criticize the change in your lifestyle and they label you with so many bad names, but the caravan must move on and let the dogs bark.
BN: You started a campaign to educate women, tell us about it.
Nazia: Actually, we observed that even the women members of the society criticized us for getting education and going out for work. So, me along with some other girls in university decided to educate the women so that they become aware of their rights and responsibilities. Some of boys also joined and supported our campaign and we created a platform named Baloch Educational Association Movement (BEAM) in 2014. We aimed to educate the housewives and other girls so that they could know the very basic things such as how to write their names, how to dial a number or to check the dairy and assignments of their children. We started the classes and a good number of women joined us.
There were many girls who had done their matriculation but didn't continue the education further. We encouraged them to go for higher education so that they could change their lives. Unfortunately, the situation in Lyari turned out to be tensed and the gang wars waged a bloody war in the area which made it impossible for us to continue this noble cause of educating women and girls of our area.
BN: Why did you feel the need to take such an initiative?
Nazia: We felt that the women in our society had no idea about their rights and they could not differentiate between good and bad. They don't have a positive attitude towards their children and they have no plans for the future of their children. That's why we moved forward to create awareness among them.
We provided them a free platform through which they could get basic education and we successfully continued this journey for almost four months. However, the rise of gang-wars did not allow us to continue the process further.
BN: What was the response of the people when you initiated the campaign?
Nazia: In the initial phase, we started a mobilization campaign so that we could tell the people about our aims and objectives and to convince them for the cause, but instead of getting appreciation, we were criticized for taking such an initiative. It was a new thing for our people that's why they thought about it negatively and hesitated to support us. However, we moved forward and decided to continue our work. There exists intensive sensitivity in our society and we also came across it as we asked for the pictures of the women to be attached with the form, they hesitated to do so as it was considered something against the social norms and values.
Despite all these odds we became successful to attract a large number of women who passionately stood by our side and joined the language classes.
BN: Why did you have to end this extra-ordinary work?
Nazia: It is a clear fact that whenever you start a noble cause, you come across many of such people who try their best to create hurdles and defame you for no reason so that you get disappointed and end your cause. Like the same we were called with bad names and they tried their best to defame us. But we had a high level of commitment and we continued our cause without any fear as we knew that we were not doing anything wrong.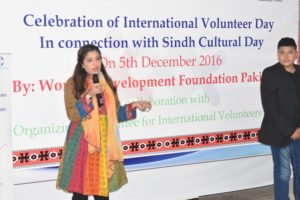 We wished to enroll the students in university, but unfortunately the situation in Lyari got worst and the school where we were carrying out the classes was at the center point. The gangsters started a bloody clash which arose an environment of fear all around among the people and they hesitated to come to the school. Therefore, we could not continue our work and we had no option, but to surrender. Later on, I joined university and completed my master's degree and after two months I got a job in Women Development Foundation.
BN: How does the Baloch society treat its women?
Nazia: Naturally, Baloch society is secular and it gives every member of society equal opportunities without any gender discrimination. However, we have lived with the people belonging to other cultures and we have adopted many of their norms and values which has affected the secular thinking of Baloch. Educating and providing equal opportunities to men and women members of Baloch society have been glorious parts of Baloch history, but a systemized process has been started to deconstruct Baloch cultural norms and replace it with extremism.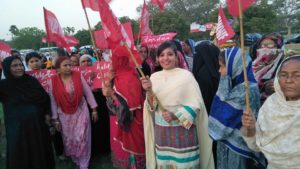 BN: What means politics to you and how have you been active in political ground?
Nazia: In today's age, politics has been defamed and it has been portrayed negatively, but to my point of view politics is something that enables you to understand the positive and negative aspects of any activity happening around you and it gives you awareness to stand by the right side and oppose any wrong happening. Everyone can't do politics because the politics in real sense requires an ideology and through political platforms you put your greatest efforts to preach for that particular ideology you believe in. Besides that, politics is very essential for social, cultural, political and economic reforms in any society.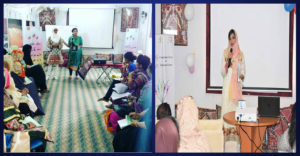 As of me, I was not involved in politics directly, but I used to be a student of politics that's why I know it has much importance in one's life. I worked with Baloch Human Rights Organization (BHRO) and through this platform I had the opportunity to be connected with other political organizations and parties that worked jointly with regard to human rights issues in Balochistan. To me politics is must because it leads you to high level of maturity.