Makuran Social Activists initiated a book distribution campaign. Through this campaign, books will be distributed phase wise.
MSA held its first book distribution ceremony at Syed Hashmi Public Library, Gwadar where Deputy Campus Director of Turbat University Gwadar campus, Principal Syed Hashmi Degree College, and Principal Girls Inter College Gwadar made sure their presence.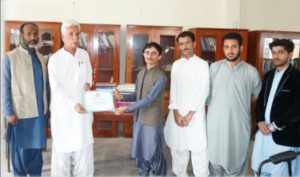 MSA in its first stage assorted 500 books to many public libraries and educational institutions of Gwadar which were donated by Balochi Academy.
MSA organizer Balach Qadir and Shahdad Shad handed over appreciation certificates to Principal of Syed Hashmi Degree College, Sir Azeem Baloch and Principal of Girls Inter College Gwadar, Madam Sabeen Baloch.
Balach Qadir and Shahdad Shad briefed the participants about the aims and objectives of Makuran Social Activists (MSA). The participants assured full support to MSA for the noble cause of promoting book culture.
The organizers informed that the second phase of book distribution will be held soon.