Lyari Literary forum completed its organizing body and moved towards cabinet on April 1,2018. When the members of LLF were not even sure that whether this team can lead the youths and revive the book and Literature culture in Lyari. Lyari, when this name emerges in mind, the concept of violence also appears but the people of Lyari better know that how much fertile the land of Lyari is. Lyari is not only known for dance, singing, boxing, football but also politics and Literature.
Streets of Lyari are evidence that it has experienced both, radical and liberal politics. Some occult and invisible forces which not only obviated the student politics in all over Pakistan, but also prevented Lyari and banned book culture and also library culture indirectly and poisoned lyari with addiction and weapon culture. However, Lyari successfully managed to throw-out all the external garbage and started the virtual Lyarian practices.
On 1st April 2018, LLF elected Zarkhan Baloch as president, Imran Fakir as Vice-president, General Secretary Dur Bibi, Finance Secretary Raheem Ramzan and information Secretary Mehmood Baloch. The platform successfully organized many circles, programs, seminars, Balochi classes and LLF held many healthy activities in Lyari. LLF proved itself as the hard-core stone in the ground. Few criticized, which were not constructive, but team ignored all the things and kept moving towards the goal.
On 21st July 2019, LLF held its second anniversary, oathtaking ceremony and Balochi course certificate distribution in Mullah Fazul Library, Chakiwara, Lyari. Hazaran welcomed the participants and introduced the agendas of the program to all. The program was chaired by Vice-president Imran Fakir and many famous guests attended the event, that included Ishaque Hamoosh, Nabi Buksh Baloch, Sharaf Shaad, Majeed Baloch, Kifayat Qazi, Abdul Salam, Ramzan Baloch and daughter of Asghar Ali Aazag. Majida Baloch along with many Balochi course students also participated in the program.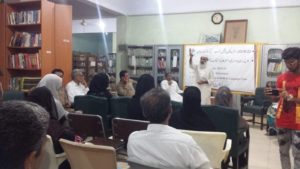 Hazaran defined the aims and objectives of LLF and invited Dur Bibi to present the last cabinet report. Then the certificates were distributed to all the students. Shield was given to Nabi Buksh Baloch for Mullah Fazul Library and sir Asghar Ali Aazag was presented a shield for teaching the course. Asghar Aazag's shield was received by his daughter Majida.
LLF elected Nazia Baloch as president, Hazaran as Vice-president, Dur Bibi as General Secretary, Raheem Ramzan as Finance Secretary and Orais as Information Secretary. Majeed Baloch administered the oath taking ceremony. LLF challenged all the outdated traditions and sexism in the society and elected the girls as President, Vice-president and General Secretary. Girls were always defined as weak subject among humans but LLF has changed the pattern and brought Girls as leading role.
Hope this new cabinet will build a better structure, considering all old experiences.