Baloch Students Action Committee-Karachi University (BSAC-KU) held a Diwan on the topic entitled "Balochi Language and Technology".
Wajah Sharaf Shad hosted the program. He is a litterateur, writer, translator, and the lecturer of Balochi Certificate Course (BBC) in Karachi University (KU). He is also the author of "Labzank, Dar Kessae Labzank O Shehr."
Wajah Ishaq Khamoush and Dr. Ramzan Bamari were the guests of Diwan. Wajah Ishaq Khamoush is a litterateur, Balochi poet and author of "Guman, Shubeen, Jaar" and lots more. Dr. Ramzan Bamari is an assistant professor in Persian Department at Karachi University and author of "Tareek, Zubab O Adbihaat."
In reply to a question about the problems in the way of development of Balochi language, Dr. Ramzan Bamari said that one of the biggest problems is un-standardization of Balochi language, and secondly it is not being taught in schools.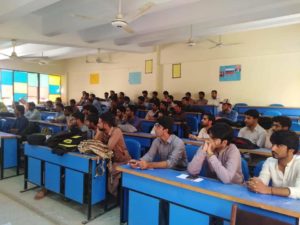 Dr. Bamari added that it's our responsibility to call conference in order to highlight this issue. Our parliamentarians should raise this issue in the provincial assembly. They should pass resolution in favor of teaching Balochi language in schools.
In reply to a question about role of technology in development of language, Ishaq Kahmosh said that when Syed Zahour Shah Hashmi did a lot of research for the "Syed Gunjh" dictionary without technology by visiting every place of Balochistan in search for new words. Then we can also work in those fields of language where technology is not necessary, but technology today plays an important role expansion of language.
He added that print media is a good platform to oxygenate a language. For the progress of a language, print media plays an important role. Many institutions that are working for the Balochi language should consult the technological experts in order to synchronize the technology with language.
In reply of a question Dr. Ramzan Bamari said that there are many problems which are plainly in front of us. First, there are no enough funds for the institutions which are working for the development of Balochi language. Our people themselves work without any due support from the government. We don't have recognized institutions to work in this regard.
In reply to a question about the progress of language and role of people, Ishaq Kahmosh said that we should serve our language as academies are working to serve the language. He added that people have worked for the Sindhi language in Sindh where sign boards are also written in Sindhi. This shows their love for their language.
In addition, Dr. Ramzan Bamari said that some of our people who are living in cities don't speak Balochi with their children. Rather they speak Urdu or English. This is the sign of inferiority with our language. We should love our language and should be proud on it.
"It's everyone's responsibility to work for the development language in every fields of life. We should not wait for the poets, writers and intellectuals, but we have to play our due role," Wajah Sharaf Shad concluded the Diwan with these words and opened it for the question-answer session.