Lyari Literary Forum (LLF) held a circle on Saturday, october 13 , 2018 at Mullah Fazul library. Topic of the circle was talk about mental illness lecture was discussed and delivered by Sara Khatri, Director of Mental Health and Well being at Kiran Foundation.
Sara holds a Bachelors in Psychology from University of Toronto and Masters in clinical psychology from Leiden University. Along with Sara, Sabina Khatri and Huda and their two students also participated in this study circle, and gave their views, ideas and experiences of mental health and mental illnesses.
Sara depicted about mental health and mental disorders and how they effect a person both mentally, emotionally, and physically and the change of behaviors occurring in a person slowly and than rapidly due to mental disorders.. and she also said "your behavior is an external manifestation of how you are feeling inside and your inner world. This is your mental health"..
She also said there are two kinds of mental health.
1 = Good/positive mental health
2 = poor mental health.
In Good Mental health Person has healthy coping mechanisms and positive habits, and comes up with the best possible solutions and salvation that don't harm him/herself or others.
But when an individual has Poor Mental Health he/she may display aggression to others or him/herself. Anger or frustration or stress will come out in ways that are harmful for self and others.
She also discussed two types of mental illness treatment
1 medicine
2 therapy
As she said " psychiatrist diagnoses the client and than gives medicine.. and a therapist diagnoses and treats clients through changes in lifestyle and therapy by processing traumas and stress to develop self awareness- which helps the clients find their own solutions and find clarity"
She also talked about clinical depression that is very common serious medical illness today in our society that negatively affects us and the way of our thinking and how we act. And she also told, the difference between sadness and depression she said "sadness is natural and its beautiful, a person every day feels sad about different things, but depression is a mental disorder, and it can be treated with a therapist or with medicine if it's hindering daily functionality.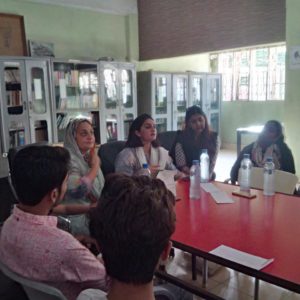 She also discussed the stigma attached to mental health in our society and how that results in shame regarding asking for help. She encouraged everyone to ask for help and support when we experience emotional stress by reaching out to a therapist or to a trusted person who can listen compassionately. Due to lack of awareness on mental health and the professional help that is available out there, many of us reach a point of distress that is out of our control and that can lead to severe illnesses and even suicide. This is why it is so important to work on prevention of mental illness and giving children tools to cope with stresses in life. And when stresses get too much, children should know that they can ask for help and receive it. There is no shame in taking care of our mental health."